You can remove leading spaces, trailing spaces, extra spaces or all spaces from selected cells in Excel easily with one click without writing any VBA code. Dose for Excel's Trim Spaces utility can implement this with one click on huge number of cells.
Click DOSE » Text » Trim Spaces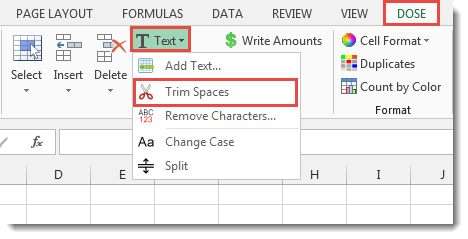 ---
Usage:
Select a range of cells.
Check the option you need to remove leading, trailing, extra or all spaces.
Then click Apply. You will see the result as shown in the below screenshot.
---
Demo
---
Clean Data In Excel Clean data in huge Excel sheets could take long time doing…
---