Thank you for installing our product Dose for Excel Add-In.
See how Dose for Excel saves your time in Excel 2021 / 2020 / 2019 / 2016 / 2013 / 2010 / 2007 / Office 365
How to Install Dose for Excel Guide
Screenshot 1: Right-click dfexceladdin.exe and select 'Run as administrator' from the context menu.
Screenshot 2: Click on 'Next'
Screenshot 3: Click on 'Next' after keeping the default installation path (Recommended) or changing it to your liking.
Screenshot 4: Click on 'Install'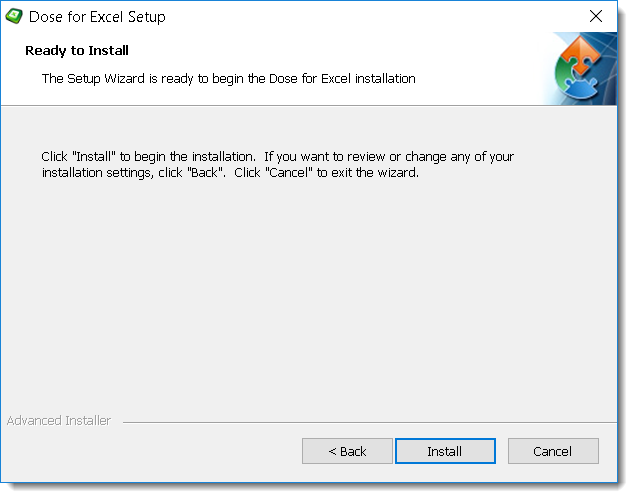 Screenshot 5: After the installation is complete, click the 'Finish' button.
Screenshot 6: Open 'Excel,' and you'll notice the 'Dose' tab has been added to the Excel ribbon, as shown in the screenshot below.
The 'Dose' tab is absent, which is a concern.
If the 'Dose' tab does not appear on the Excel ribbon, some files may be missing, and you should attempt the following fixes individually:
1- Re-open Excel and check if it works after downloading and installing Microsoft.NET Framework 4.5 or the newest versions from the link:
Microsoft .NET Framework 4.5
2- If the above doesn't work, open Excel and go to File –> Options –> Advanced. Add-ons –> 'Manage' at the bottom —> 'COM Add-ins' –> 'Go…' –> 'Dose for Excel' is checked. Check to see if it works now.
3- Whether the above fails, download and install the VSTO 2010 Runtime from the following link, then reopen Excel to see if it works:
VSTO 2010 Runtime
We hope this has resolved your problem. Otherwise, contact your IT administrator to see whether your Windows OS has any missing files.